By: 2022 USDF/IDA Quiz Challenge Grand Champion Elizabeth Kness
Since joining the Intercollegiate Dressage Association (IDA) in 2019 as a freshman at Rutgers University, collegiate riding has opened many opportunities for me to build on my knowledge and abilities as a rider. Recently, as the grand prize winner of last year's USDF/IDA Quiz Challenge, I was invited to attend the Young Rider Graduate Program (YRGP) in Palm Beach, Florida. The program was attended by young equine professionals from across the country. Over two days, top professionals from various fields presented on topics ranging from equine law, to being a working student, to marketing your brand. Although geared toward providing information for those beginning and growing their businesses in the equine industry, I believe the speakers' expertise and perspectives were helpful no matter our goals. [Somebody] echoed a few key messages, reflecting that their wisdom extends far beyond the realm of dressage; say yes to every opportunity that comes your way, do your reading, and build a support system—no one does it alone.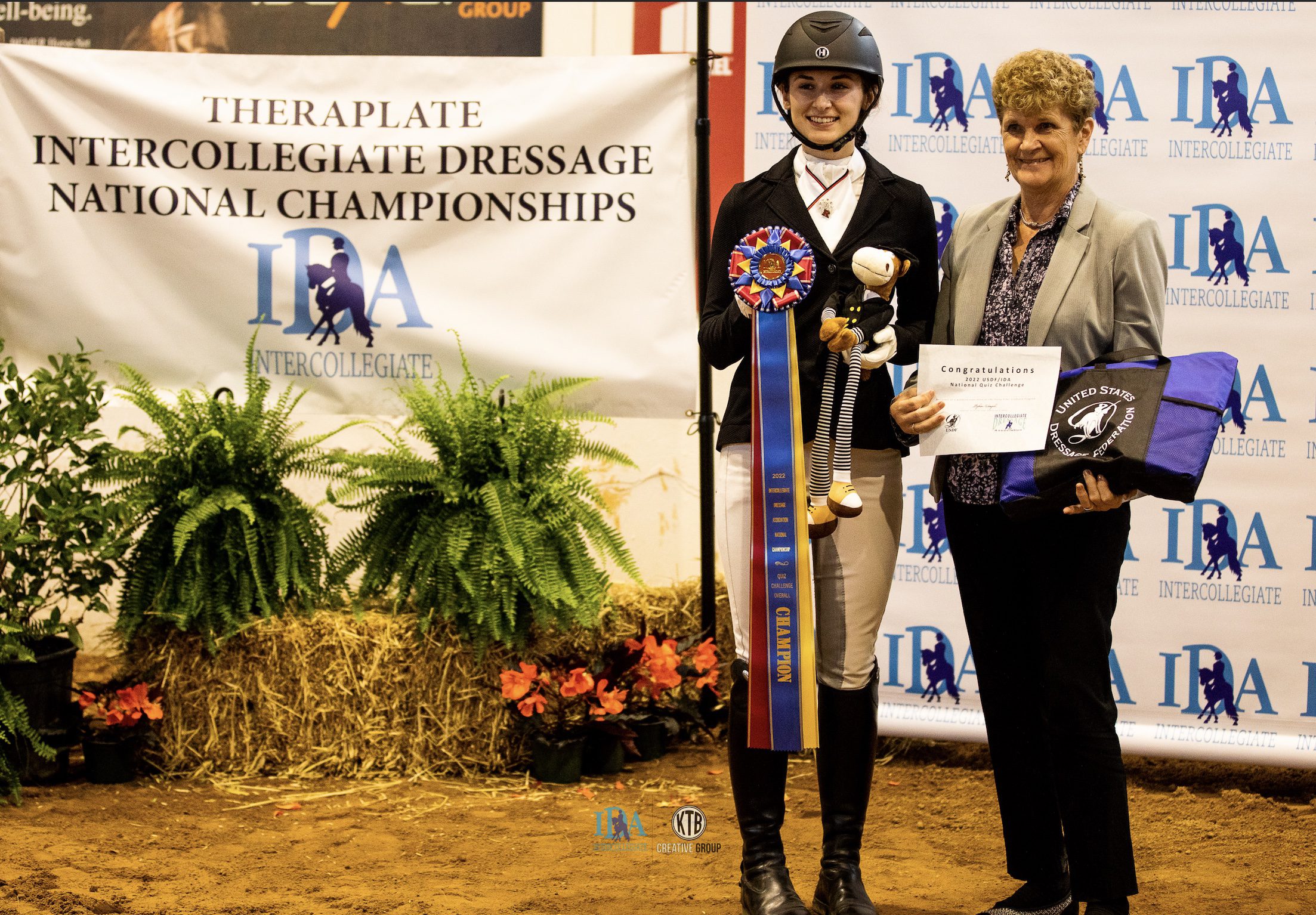 As a participant in the YRGP, I was also eligible to attend the FEI-Level Trainers Conference the two days that followed. Observing incredible riders and horses under the instruction of Lilo Fore, Linda Zang, Henk van Bergen, and David Hunt took my knowledge of dressage to the next level. The lessons I learned were valuable and will stay with me, along with several pages of notes, throughout what I hope is a lifetime of dressage.
Beyond being an enjoyable weekend full of dressage, the YRGP and the Trainers Conference also presented an opportunity for me to transition from collegiate rider to adult amateur, pursuing my riding goals out in the wild. I am so thankful to IDA and USDF for making this accessible to me through the Quiz Challenge and to USDF, US Equestrian, and The Dressage Foundation for putting these programs on and providing support to attendees. I am reminded that my adventure of learning dressage will never end if I seek these opportunities and say yes to them! Thank you to the clinicians at the Trainers Conference and presenters at the Young Rider Graduate Program; I appreciated every ounce of wisdom you shared.
Learn more and sign up for the 2023 USDF/IDA Quiz challenge here: https://www.usdf.org/education/quiz_challenge.asp